The IKEA Ektorp range includes seven sofas, three armchairs, and a footstool. The largest of the 7 sofas is the 2+2 corner sofa that has been designed with a corner seat with 2 seats either side, next up we have the two-seat sofa with chaise (left or right) then we move onto more standard sizes of a 3 seater sofa and a 2 seater sofa both of which are also available as sofa beds.
The armchair ranges include the standard Ektorp and the Jennylund which has narrower armrests and a higher back than the standard Ektorp and finally the Tullsta that has smaller armrests and a curved back.
Click Here For EKTORP Covers Prices, Fabrics, Colours & Sizes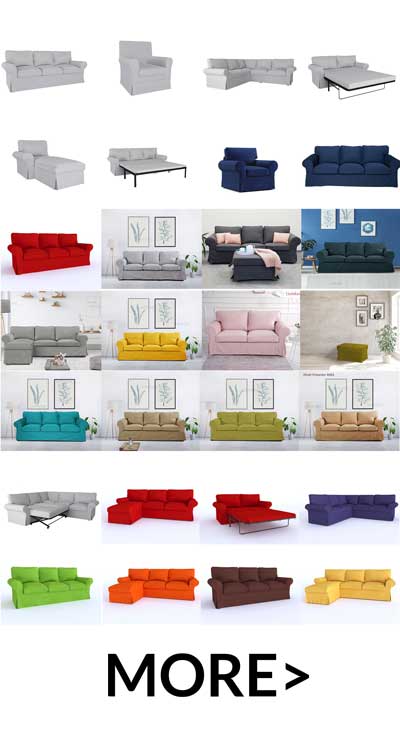 Lastly, to complete the range, we have the Footstall and Cushions.
EKTORP Covers are available in over 200 colours and various fabrics for
2 Seat Sofas
2 Seat Sofa Beds
3 Seat Sofas
3 Seat Sofa Beds
2 Seat Sofas With Chaise Longue Left
2 Seat Sofas With Chaise Longue Right
Sofa 2+2
Armchairs
Jennylund Armchairs
Tulsta Armchairs
Footstools
Cushions
Click Here For EKTORP Covers Prices, Fabrics, Colours & Sizes